The Dogs: Some Statistics
| | |
| --- | --- |
| | "Of the 76 dogs on the Adams property, 18 came from the local shelter -- officially or unofficially. 15 were 'unsold stock' from a puppymiller. Three were strays, one came from another shelter, and 39 were born onsite! Several of the adult females had been born there and had gone on to have puppies themselves; one dog is due to whelp again the first week in June. I have no doubt these people will start this all again, and there is NOTHING we can do about it. The County granted them a kennel permit...and told them that where they live 'they can have as many dogs as they want.'" |
| | |
---
---
Table 1: Breeds/Ages/Genders*
Breed

Total #
1+ yr old
6 mo - 1 yr
Under 6 mo
M
M/N
F
F/S
Beagle
1
1
1
Border Collie
1
1
1
Border Collie Mix
3
3
2
1
Husky
30
15
4
11
15
4
11
0
Husky/Border Collie
6
6
4
2
Husky/unknown
10
4
6
4
1
4
Husky/Pit bull
6
1
5
4
1
1
Pit Bull
1
1
1
Labradors
2
1
1
2
Lab Mixes
5
2
3
2
1
2
Newfie Mix
1
1
1
Cocker Mix
1
1
1
Dane Mix
1
1
1
Rottweiler
1
1
1
Rott. mix
1
1
1
Rott/Boxer
1
1
1
Rott/Shepherd
1
1
1
Shepherd mix
1
1
1
Schipperke
1
1
1
St. Bernard mix
1
1
1
Terrier mix
1
1
1
TOTAL
76
38
15
23
34
15
25
2

*Note: Please see our Drive To Save Lives Photo Album for photos of individual dogs. A quick explanation of the Album features can be found on Using the Photo Album.
Table 1 summarized:
37 of the dogs were purebreds.
39 were mixed breeds.
The majority of the dogs were huskies (30) or some sort of husky mix (22). Help from shelters or rescues experienced in handling this breed was greatly appreciated.
In age, exactly half of the dogs were over 1 year and half were under, with 23 of those being under 6 months, and 13 of the 23 having been born in March 06.
Actual ages ranged from a few weeks to 16 years.
Only 17 of the dogs have been spayed/neutered.
There were 34 unneutered males onsite.
There were 25 unneutered females onsite. Many of the adult females had had one or more litters that we knew about.
---
Top
---
Table 2: Where They Came From:
Origin

Total #
Pure
Mixed
M
M/N
F
F/S

Notes

Local Shelter (Officially adopted)
8
2
6
2
5
1
Earliest adoption date was Nov. 2002. 5 adopted in 1.5 yrs, 3 alone in June 05, last one adopted on 6 Apr 06.
Local Shelter (no paperwork)
8
3
5
3
5
Time frame and circumstances unknown
Local Shelter turn-aways
2
2
1
1
Obtained from owners in shelter parking lot
Commercial Breeder Yvonne Skinner*
15
14
1
5
4
6
Unsold stock; oldest dog is 6.5 years; the youngest is 1.5 years.
Other shelter
1
1
1
No paperwork
Found as strays
3
3
1
1
1
Born Onsite (see also Table 2-A)
39
18
21
21
18
Some pups "second generation;" one or more parents also born onsite

*Note: Ms. Skinner's kennel, "Woodland Pets," coincidentally, produced Mr. Peabody, guiding spirit of the Wisconsin Puppy Mill Project.
---
Top
---
Table 2-A: Litters Born Onsite as of 24 June 06:
Mother

Origin of Mother
Date of litter(s)/age of pups

Notes

Sasha
born onsite
8 mo.
Father was Avalanche, also born onsite; from all indications, Sasha's brother. Their mother was probably Specky, Misty, or Amber, all of whom came from Yvonne Skinnner.
Ginger
born onsite
12 Oct 05
12 Mar 06
Also had one previous litter, probably Mar 05. Father of Oct 05 litter probably Brutus, the intact pit bull obtained from the shelter. Ginger's mother was almost certainly also one of the Skinner "culls."
Amber
Yvonne Skinner
26 Mar 06
Maggie
Yvonne Skinner
9 mo.
Specky
Yvonne Skinner
5 Dec 05
Trinket
Yvonne Skinner
12 Dec 05
---
Top
---
Summary: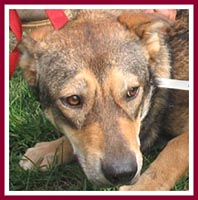 The first question anyone asks when a situation like the Adamses' comes to light is, "How could this happen?" The statistics above give some insight into the set of circumstances which culminated in this intervention.
First of all, when we look at the official adoptions from the local shelter, where John Adams volunteered, we are baffled at seeing six dogs adopted within 18 months, and three within one 3-week time frame! Since this shelter supposedly has a spay/neuter policy, we wonder how two intact males "slipped through the cracks." Most of all, we wonder why shelter staff didn't check their own records and screen adoptions more carefully -- John adopted the last dog from the shelter just two weeks before the intervention, when he already had over 70 dogs on the property!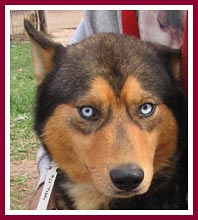 There are no records for eight of the dogs John says he adopted from the shelter, but again, the fact that that he admits he took two in the parking lot from owners who were turned away from the shelter for lack of space provides a clue as to where the other eight might have come from.
It's striking that slightly more than half of the dogs rescued during this intervention were born on the Adams property! We have no way of knowing how many other puppies were born here and sold through classified ads during the six years or so that most of the dogs seem to have been obtained, but we can surmise that every spring and fall, there has been a "baby boom."
But, look at the tables again. Aside from the 18 unspayed females born onsite, and the one found as a stray, where did the rest come from? John Adams says that they were unsold "stock" from the commercial breeder he used to work for, Yvonne Skinner.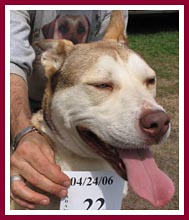 As it is, 54 of the 76 dogs onsite as of 24 April can be traced directly or indirectly back to this "breeder!" In a 2013 email, Ms. Skinner's daughter responds, "We are not responsible for what people do after they have purchased the dog from us," and we agree that this is true. However, in our opinion, a responsible breeder, wouldn't have had "unsold stock" to dispose of to begin with; she would have had a waiting list for all the puppies she bred. She also would have sold her 'pet quality' puppies under a spay/neuter contract.
Finally, the Adamses live in an area where, even after officials have asked rescues to intervene in what could have become a major cruelty/neglect case, the Adamses have been issued a kennel license and told that the county will not limit the number of dogs they may keep. Rescuers have no doubt that the cycle will begin all over again as soon as the Adamses are out of their direct scrutiny.
It's easy to say that the Adamses should have known better, they shouldn't have taken more dogs than they could care for, that they should have had them altered, etc. But they had plenty of help getting into the situation they found themselves in.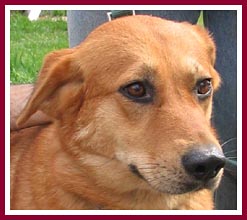 Perhaps their area is not yet ready for a "no-kill" shelter, particularly since that shelter appears to be turning away so many animals in need. We cannot create a 'no kill' society until we shut down puppy mills, implement aggressive spay/neuter programs to prevent unwanted animals, and conduct massive 'responsible pet ownership' campaigns to educate the public that pets aren't -- or shouldn't be -- disposable. And a limit must be set by local governments on the reasonable number of pets an idividual or family may be allowed to keep.
Until then -- situations like this will develop, and rescuers will have to go and clean up the mess.
Previous Page: The Follow-Up * Next Page: Using Our Photo Album