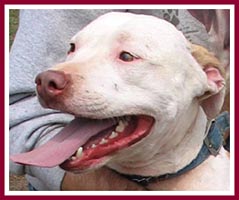 Due to the large number of photographs necessary to tell the story of this intervention and to get the 61 dogs into shelters, rescues, and Forever Homes, we decided that the best way to handle them would be to take advantage of the gracious donation of space in an off-site Photo Album.
Unfortunately, the creators of the original photo album service being used went out of business without notice and our album disappeared for a while. Thankfully, the friend actually hosting our album was able to recover most of the photos and the captioning info on the thumbnails, but some photos and the rest of the captioning was lost beyond recovery. Still, our Drive To Save Lives Photo Album will help put faces to our statistics, and give you an idea of the problems we faced in this situation.
All of our Drive To Save Lives Photo Album links open in a separate brower window so that you can easily refer back to the main Drive To Save Lives web pages at all times. You've probably also noticed by this time that clicking on any of the Drive To Save Lives page photos will take you to the larger, captioned view of that picture in the Album.
The Drive To Save Lives Photo Album has several convenient viewing options:
Look at a number of thumbnails at once on each album page, and click on any of them for a larger view of that photo.

Click on the first thumbnail, see the larger view of Photo 1, and use the arrows at the bottom to "page" through the individual photos in order (forward arrow on the bottom right, back arrow on the bottom left).

There is also a "slideshow feature" that automatically pages through the larger views of the photos for you. To use this feature, look at the top "toolbar" box of the first album page, just under the album title "Drive to Save Lives." On the right side of the box, you'll see a link labeled "Slideshow." Just click on that link, sit back, and enjoy!