The Follow-up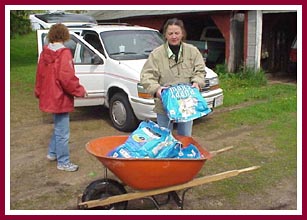 "I have to go finish cleaning the truck I hauled dogs back in yesterday...the smell is something that cannot even be described. I was up a 4:00 am and didn't get home until 7 pm...put 300 miles on 3 trucks and spent another $150 on gas."
Due to the unexpectedly large number of dogs that were surrendered, not all could be removed from the Adams property on 24 April. Several follow-up visits would be necessary to temperament test and remove the remaining dogs, as well as to make sure that the 15 dogs the Adamses kept received their scheduled vet care (in particular, spay/neuter procedures.)
Volunteers from the Washington County Humane Society, though unable to participate in the initial intervention, soon came on board, offering to help with the temperament evaluation, follow-up visits, and to take more than a dozen dogs for adoption through their shelter. On 16 May, another caravan pulled up at the Adams property.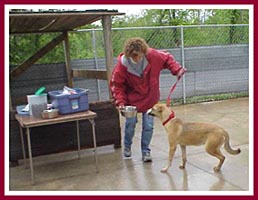 Along with record-keeping and evaluation equipment, they also brought nearly 400 pounds of donated name-brand dog food. Hopefully, this will sustain the pack until the rest of the surrendered dogs have somewhere to go. (See How You Can Help for information on sheltering, fostering, adoptions and donations!)
There wouldn't be time to evaluate all of the dogs, but Kathie from WCHS made a valiant attempt. Many of the dogs were sweet and sociable, though some of the adolescent pups born onsite had had no exposure to anything but the extended pack (the Adamses and the other dogs), and may never socialize properly.
As temperament testing proceeded, the Adamses brought out a dog named CoCo. After triple-checking the lists, one of the volunteers exclaimed, "We don't have a CoCo!" Sure enough, John never brought this one out to be examined, chipped, and vaccinated on the original 4/24/06 visit.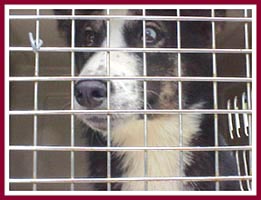 Coco was logged in as dog #76!
Footnote: Another surprise came during a 30 May follow-up call to schedule spay/neuter procuedures for the rest of the rescued dogs still onsite. John Adams proudly announced that Maggie May, another former puppymill dog whose 9-month-old puppies were also included in this rescue, is due to deliver another litter "any day now." The suspected father is Raven, a 1.5 year old Schipperke who was also another dog given to John by his former employer, Yvonne Skinner. Raven was among the dogs removed during the original 24 April visit and has since been neutered.
Previous Page: The Intervention * Next Page: The Dogs - Some Statistics