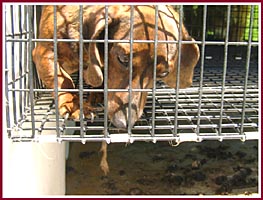 In response to concerns from his constituents about some provisions of AB-250, the Commercial Dog Breeders Licensure Bill, Representative Jeff Smith introduced Assembly substitute amendment 1 on September 16, 2009 (read entire AB-250 Assembly Substitute Amendment 1 here). Senator Kreitlow offered the Amendment in the Senate on 23 September.
This substitute amendment reflects continued discussions with the many groups that will be impacted by this legislation and includes input and suggestions from the Wisconsin Puppy Mill Project, Wisconsin Veterinarian Medical Association, Wisconsin Humane Society, Wisconsin Sheriffs and Deputy Sheriffs Association, Wisconsin Wildlife Federation, Dog Federation of Wisconsin, and Wisconsin Bear Hunters Association.
This amendment makes several minor changes to strengthen the bill, including:
Changes to the licensure threshold (Pg. 4; Lines 4-6 and 8-11)

Threshold maintained at 25 dogs sold per year, but licensure is not required if dogs sold come from three or fewer litters. This requirement addresses a concern from "hobby breeders" that raise large-litter breeds and could surpass a threshold of 25 dogs with only two litters. Under the sub, up to three litters can be sold without licensure.

Clarify Temporary Dog Market Definitions (Pg. 4; Lines 16-18 and 23-24)

This provides a definition for a dog trial, using the definition already used in DNR statute, and exempts them from the classification as a temporary dog market, which would have required a license. Simply stated, dog trials cannot be confused with temporary dog markets.

Clarify Outdoor Dog Definitions (Pg. 10; Line 21)

In regards to keeping dogs outdoors, line 4, "Any other requirements specified by the department for the keeping of dogs outdoors are met" was removed.

Clarify Reporting Requirements for Mistreatment of Dogs (Pg. 13; Lines 1-5)

This section was renamed from "Seizure of Dogs" to "Reporting Mistreatment of Dogs." Rather than DATCP being given the authority to remove animals in light of violation of Ch. 951, the statute now states that they will work with local law enforcement. This is the procedure DATCP would have followed under the previous draft, but language is clarified here to solidify the intent in statute. On pg. 3; line 10 is a clerical revision to keep ch. 173 and ch. 951 consistent in regards to the definition of a license.

Changes to Advisory Committee (Pg. 13; Lines 12, 3, 5, and 8)

Membership expanded to include two more dog breeders and one additional humane society, reflecting the variety of size and scope of these groups and ensuring input from a broader range of facilities that will be regulated by this bill. Also, rather than two at-large members to be determined by DATCP, there is now one, which caps the total number of committee members at 12.
These changes strengthen the intent and structure of this legislation and have support from nearly all organizations involved throughout the drafting process.