THANKS TO YOU, Wisconsin,
Spring Has Finally Come For These Dogs!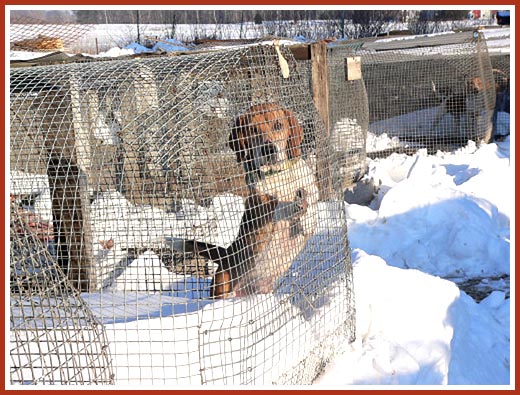 This so-called breeder / animal control facility is no longer in business, thanks to Act 90!
But We're NOT Done Yet!
Getting legislation passed for animal protection is not for the faint of heart. It takes years of work, planning, and intense grass roots efforts.
And passing laws is only the beginning -- we must then work even harder to see that the new laws are properly implemented and enforced.
In 2009, the Wisconsin State Legislature unanimously passed Act 90, a law regulating dog breeders and sellers in our state. Since the beginning of 2010, we have been helping to formulate the administrative rules by which the law will be enforced. Taking into consideration input from representatives of all groups who will be licensec (the Dog Sellers Advisory Committee), the Wisconsin Department of Agriculture, Trade, and Consumer Protection created a fair, enforceable Administrative rules draft that became law on 22 March 2011. If all goes well, the law will go into effect in June 2011.
But -- have you thought about what comes next for the puppy mill breeder dogs in Wisconsin, such as the ones pictures above? WE have.
There will still be abuses; there will still be dogs needing our help. Commercial breeders may decide that the law doesn't apply to them and try to continue as they have been. Some may "go underground" to hide their operations to avoid licensing. Even some licensed breeders may get lazy and only "spruce up" when an inspector is expected.
And, as those millers who find regulation too "expensive" start shutting down, there will be hundreds, possibly thousands of dogs, who will need vet care, rehabilitation, interim housing, and new homes.
With your help, Wisconsin Puppy Mill Project will be there for them, the rescues and shelters who take them in, and the wonderful people who adopt them!
We'll keep you posted as our new mission unfolds, and let you know how you can help.
About the Wisconsin Puppy Mill Project:
The Wisconsin Puppy Mill Project is a 501(c)3 registered non-profit. On 1 December 2009, our decade-long dream was realized when, with his signature, Governor Doyle turned AB-250, the Dog Breeders Licensure Bill, into the ground-breaking Commercial Dog Breeders Licensure Law!.
Our goal is to offer a valuable educational resouce for:
those seeking to end the institutionalized form of animal cruelty known as "puppy mills"
those looking for ways to fight abuse in their own neighborhoods
those wishing to add a healthy, loving, animal companion to their families
Members of our group started working to alleviate the suffering of mill dogs in 1999 and officially organized as the Wisconsin Puppy Mill Project, Inc., in 2004. Our mission is to educate the public about puppy mills, to prevent cruelty to animals, to foster understanding of responsible pet acquisition and ownership, and to promote adoption of homeless companion animals.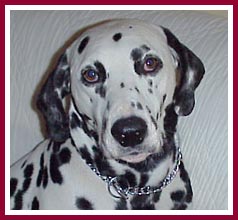 This website is dedicated to Mr. Peabody. Pea was bred and born in a Wisconsin puppy mill, and languished in a filthy cage in a Wisconsin pet store, at the mercy of neglectful and sometimes abusive sales people. Even though he finally found a loving home, there was no "happy ending." Pea suffered from poor breeding, chronic health problems, and emotional scars due to his background, for all of his six years.
It is because of Pea that the Wisconsin Puppy Mill Project exists. It is because of Pea and dogs like him that Wisconsin puppy mills will someday CEASE to exist.
It's easy for people to shake their heads and murmur how terrible all this is, but it doesn't affect THEM. One of our goals is to show that the problems of pet profiteering affects EVERYBODY, one way or the other.
We also want to help people find healthy, loving, lifelong animal companions. We would prefer that everyone adopt from shelters and rescues, but also want to give you the information you need to choose a reputable breeder.
And, of course, we hope to enlist your aid in putting an end to the form of institutionalized animal cruelty known as "puppy mills."
"...if one person is unkind to an animal, it is considered to be cruelty, but where a lot of people are unkind to animals, especially in the name of commerce, the cruelty is condoned and, once sums of money are at stake, will be defended to the last by otherwise intelligent people." -- Ruth Harrison
---
© Copyright, 2008. The Wisconsin Puppy MIll Project
PO Box 516 * Elkhart Lake, WI 53020 * info@NoWisconsinPuppyMills.com

Website design by Hook & Web Designs