Though we now have a great law for licensing dog breeders and sellers in Wisconsin, we're not finished yet -- and still need your financial support as much as ever!

Where your $$ Go

Donate online

Check or Money Order

---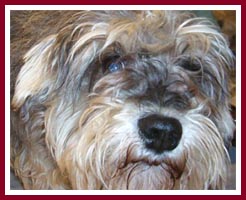 Since 1999, the Wisconsin Puppy Mill Project has been working hard to educate the public about the miserable conditions in pet mills, pet shops and other pet facilities. Through our programs and services we have also provided education to law makers and fought for tougher state laws to govern the breeding and sale of pet animals of all species.
Thanks to YOU, our efforts have succeeded and a new law has been passed in Wisconsin (2009 Act 90).
But OUR WORK has just begun. Sadly, there are still abuses; there are still dogs needing our help. Some commerical breeders have found or created "loopholes" to evade regulation; some have even gone "underground". Some licensed breeders may only "spruce up" when an inspector is expected.
With your help, Wisconsin Puppy Mill Project will be there to continue the fight to close up those loopholes and ferret out the "underground" breeders, brokers and sellers as well as to lend our support to other critical animal issues, such as the use of dogs to hunt wolves in Wisconsin and the expansion of Act 90 minimum standards of care to ALL dogs in Wisconsin -- not just those in the care of licensed dog sellers.
PLEASE continue helping us help them!
---
Top
---
Where your $$ go: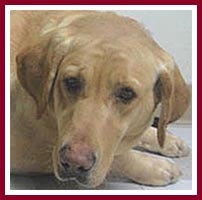 Everyday we help animal shelters, humane societies and individual animals in need on a case- by- case basis. From spay/ neuter and other veterinary costs for "surrendered" dogs from commercial breeders -- adults who are past their breeding "prime" and older puppies that did not sell -- to aid to shelters overburdened by confiscations from animal cruelty cases, 100% of your donation will be used toward direct care of rescued animals for vet bills, food and other related expenses!
The Wisconsin Puppy Mill Project is a 501(c)3 registered non-profit, and your gift is tax deductible.
---

Top

---

Donate online through PayPal:

Click on the button, and type the amount you want to donate in the "price" block -- you don't even have to be a PayPal member! Payment will be made through your account if you are a member, or through the credit card of your choice. THIS IS A SECURE CONNECTION, so your information is safe.

After you finish, details of your transaction will appear on the screen, with the option to print a receipt for your records.

Donate by check or money order:

Checks or money orders may be sent to:

Wisconsin Puppy Mill Project
PO Box 926
Sheboygan, WI 53082-0926

Joyce's Fund:

A special fund set up in the memory of a dear friend, Joyce Kitsemble -- all donations go directly to a vet fund for mill dogs. Please use the special Joyce's Fund PayPal button below, or send check or money order to "Joyce's Fund" at the address above.

Who was Joyce?

More about JOYCE'S FUND

---
Top
---
In these tough economic times, we have found some programs that will enable you to donate at no cost to yourselves, just for doing something you would anyway -- whether making a simple internet search or booking a travel package!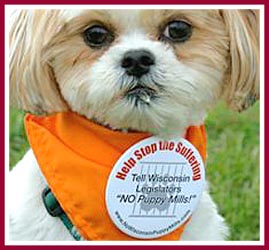 Please don't say "Google it" -- say "GOODSEARCH IT!" Wisconsin Puppy Mill Project will get a penny for every search through www.goodsearch.com, a search engine powered by Yahoo -- just be sure to choose Wisconsin Puppy Mill Project as your cause. If you have cookies enabled, GoodSearch will remember that you want your donation to come to us so that you don't have to choose a cause every time you do a search.
You can also help us by using GoodShop when you shop online. Goodshop will donate up to 20% to Wisconsin Puppy Mill Project when you shop at thousands of retailers through Goodshop and designate us as your cause!
Though we always urge our visitors to support their local merchants, if you are going to shop online, we'd appreciate it if you would do it through one of the programs that will benefit Wisconsin dogs! Please see below for details!

GoodSearch/ GoodShop
Click on the link or type in www.goodsearch.com or www.goodshop.com any time you want to search or shop.

If Wisconsin Puppy Mill Project doesn't appear on the page as your cause, click on Get Started, then type Wisconsin Puppy Mill Project in the "Who do you want to help?" box (or choose us from the dropdown menu).

You're good to go -- if your computer enables cookies, your choice of charity should automatically come up every time you return to the GoodSearch / GoodShop site.

You do NOT have to use the link on our website every time you want to GoodSearch or GoodShop! Just make sure our name appears as your cause.

To shop at any of the thousands of stores in the GoodShop program, click on the GoodShop link on the GoodSearch page or type in www.goodshop.com and go there directly.

Be sure that Wisconsin Puppy Mill Project appears as your cause.

If you know which store you want to visit, just type it in! Or, click on the "Catgories" button to see which stores are avaliable.

When you choose your store, be sure to check out the coupons on the GoodShop page!
---
Top
---
| | |
| --- | --- |
| | We thank you for your support! |
| | |
| | |
---
© Copyright, 2010. The Wisconsin Puppy MIll Project
PO Box 926 * Sheboygan, WI 53082-0926 * info@NoWisconsinPuppyMills.com

Website design by Hook & Web Designs