NOTE: Stardust Dachshunds is a small hobby kennel located outside Appleton, WI, breeding the standard long haired variety exclusively. They are active members of the Dachshund Club of America, The Badger Dachshund Club and the Winnegamie Dog Club, where Anne is the conformation chair.
What is the difference between a dachshund puppy you would get from a responsible breeder versus one from a puppy mill? LOTS!!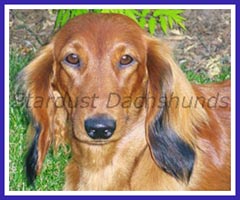 The dachshund is truly one of the most versitile of all breeds. Dachshunds can compete in many AKC events -- since 1981, Stardust Dachshunds has produced Show Champions, Field Champions, Obedience and Rally titles and, most importantly, loving family pets & companions.
Producing beautiful dachshunds with correct structure, temperament and good health has always been our primary goal. Our dogs are bred to be first and foremost spoiled house dogs, anything after that is icing on the cake. Watching a dachshund's natural instincts kick in during a field trial or at an earth dog event is just as satisfying as a blue ribbon won at a show.
The cruelty and absolute neglect of puppy mill animals can truly make a quality, caring breeder sick. When a pet animal is raised as a commodity, there is no thought as to the proper conformation, nutrition or social environment necessary to start these puppies as a normal pet. Many of these puppies start off with medical issues and fear issues due to lack of exposure to normal household sounds and activities. They are often weaned from the mother too early and sold before they have proper socialization.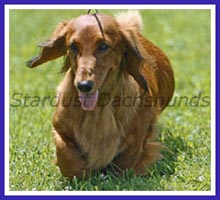 Dachshunds come in three coat varieties and two sizes. A reputable breeder will not "mix and match" these. At Stardust Dachshunds, we breed only standard long-hairs like Stella, pictured on the right. However, it is not unheard of for a non-reputable breeder to cross the coats and sizes, either deliberately or though sheer carelessness, producing something that doesn't even look like a dachshund. For instance, we have seen long-hairs bred with a wire, and the results look like a brillo pad!
Another concern is all the color fads. A responsible breeder knows that there are reasons certain colors are standard and certain ones should not be bred. Appearance plays a part, but some non-standard colors are also linked to serious health concerns. For instance, the so-called "double dapples" I'm seeing advertised online as "rare" are, in fact, prone to blindness and deafness. I also see dilute reds (no black pigment), assorted mixtures of piebalds (not in the dachshund standard), the odd Isabella and tan (dull gray), solid blacks (no tan markings), etc. These "rare" colors are actually products of careless or over-breeding -- and usually fetch a high price when they absolutely should not!
As touched on briefly above, there are the health concerns. Dachshunds, like any other breed, can have genetic health problems. One in particular that affects some miniatures is Progressive Retinal Atrophy (PRA), which causes blindness at a young (before 4) age. A simple, non-expensive test can determine if potential breeding dogs carry this problem, but the online or puppy mill breeders do not have CERF testing done.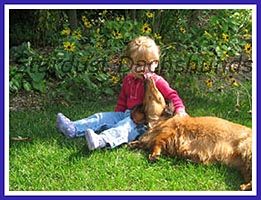 Finally, there are temperament concerns. A reputable dachshund breeder will carefully investigate the pedigrees of breeding stock to make sure they are using only physically sound, healthy dogs with proper temperament for breeding. This way, they can breed out-going, happy, and loving dachshunds who are equally good with children as adults. Puppy mill breeders do not care if they produce puppies afraid of their own shadow and the result can be puppies so afraid they lash out as a fear biter or, the other extreme, so aggressive that they are ankle-biters.
When you obtain a dachshund from a reputable breeder, he/she will help along the way with general questions, training issues or just to share the joy of your dog's antics. If you are not able to keep the dog for any reason the dog can be returned to the breeder. On the other hand, you may never even find the contact information for a dog bought through a puppy mill, and even if you do the breeder will not take your calls!
The bottom line is: A reputable breeder truly cares about the dogs and the families who take them home. All the puppy miller cares about is the money.
At Stardust Dachshunds, we want you to have fun with your dogs...we always do!