UPDATE: The 2008 lawsuit ended with the plaintiffs (Petland and Hunte Corp.) settling out of court. Both companies appear now to be doing "business as usual," though Hunte Corp. has changed their name to Choice Puppies.
At a news conference on 20 November 2008, the Humane Society of the United States (HSUS) announced the result of an eight-month investigation into Petland Pet Stores. This investigation graphically documents what we have known all along: even though management will deny it, the vast majority of puppies sold in Petland pet stores are bred in puppy mills!

Read the original 2008 HSUS Investigation Linking Petland to Puppy Mills


Petland, Pet Store, and Puppy Mill Investigations (HSUS)

On 17 March 2009, HSUS issued a press release stating that members of HSUS and other consumers filed a class action lawsuit alleging that Petland, Inc. and the Hunte Corporation are conspiring to sell unhealthy puppy mill puppies to unsuspecting consumers in numerous states.
The class action lawsuit, filed in federal district court in Phoenix, was the result of many months of investigative and legal research. It alleges that Petland and Hunte violated federal law and numerous state consumer protection laws by misleading thousands of consumers across the country into believing that the puppies sold in Petland stores are healthy and come from high-quality breeders. Instead, many of the puppies sold by Petland come either directly from puppy mills or puppy brokers such as Hunte, which operates as a middleman between the mills and Petland's retail stores.
Petland denies it supports these substandard breeding facilities, and claims to follow "Humane Care Guidelines" developed in conjunction with the USDA. However, according to the HSUS report, the USDA nformed HSUS in writing that it has no record of any such guidelines.
Ongoing investigations have traced the shipping records for more than 15,000 puppies to Petland stores. They found that:
Some stores buy directly from out-of-state commercial breeders, including one known animal abuser. USDA Animal Welfare Inspection Reports for Breeders show that almost half of these breeders have been cited for violations at least once over the past three years.

Most Petland stores are buying puppies from large-scale brokers (USDA Class B licensed dealers) that obtain their "stock" from puppy mills then resell to pet stores. A Freedom of Information check of the USDA Animal Welfare Inspection Reports for Class B Dealers reveals many violations, including improper record keeping, cramped cages, unsafe animal transport vehicles, and purchase of puppies from unlicensed breeders.
Ongoing investigations have traced the shipping records for more than 15,000 puppies to Petland stores. They found that:
Where, specifically, do Wisconsin Petland stores get their puppies? 2009 Records from the Wisconsin Department of Agriculture, Trade, and Consumer Protection (DATCP) show that most puppies sold by WI Petlands are supplied by brokers:
Janesville Petland: Conrad's Cuddly Canines, located in Frankford, Missouri. This kennel was apparently licensed as a dealer after their preliminary inspection on 12 September 2008.

Pewaukee Petland: Heritage Puppies, Lake Mills, Iowa.

Racine Petland: Received shipments from four different brokers:

Hunte Corporation, Goodman, MO -- one of the largest puppy brokers in the country; reportedly sells over 80,000 puppies a year from hundreds of different sources. Has been cited numerous times for violations, including:

31 March 2009: improper record-keeping, when inspectors apparently found records for 10 puppies that should have been on a truck, but were not.
5 August 2008: dozens of puppies in too-small enclosures.
16 March, 9 April, 18 July, and 30 November 2007: transportation of underage puppies.
5 September 2006: improperly marked containers for air transportation (some crates had no "this side up" arrows); no documentation that food and water had been offered to the 63 puppies being shipped.
15 August 2006: unsafe transportation after one of their trucks caught fire enroute and killed all 73 puppies being transported.

Tracy's K & J Pets, Fair Grove, MO -- their 17 April 2009 pre-licensing inspections showed many violations, including: inadequate veterinary care, inadequate outdoor housing facilities for 6 adult dogs, and unsafe transport vehicles. Records show that all violations were corrected before the second inspection, which interestingly enough, was dated the same day.

QD Kennel, Frankford, MO

Conrad's Cuddly Canines, located in Frankford, Missouri. This kennel was apparently licensed as a dealer after their on 12 September 2008.
NOTE: the above information was taken from USDA inspection reports, which are unfortunately no longer accessible through the USDA website. You can, however, put in a Freedom of Information Act (FOIA) request to view the records.

Where WI Petlands Get Their Puppies, 2008 - 2009 (pdf)


5/28/2019: HSUS undercover investigation reveals more sick, dead puppies at Petland stores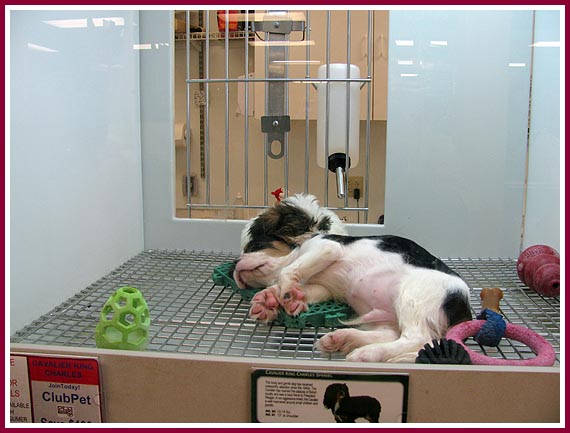 The puppies pictured on this page were photographed at the Janesville, WI, Petland on 17 July 2009.