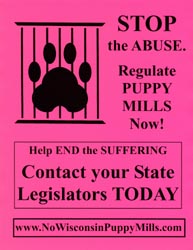 It's hard to believe, in this day of coverage by TV newsmagazines, vocal animal rescuers, and articles flying via the internet, that there are still people out there who haven't heard about puppy mills. Or, if they have heard, either don't believe the reports, or feel that it isn't a problem because "we don't have any puppy mills around here."
What can you do? Take every opportunity to educate, Educate, EDUCATE! Give them this website URL and let them see for themselves.
We have also put together some printer-friendly materials that you may distribute at your own fund-raisers, events, and rallies. You will need Acrobat Reader to download them. If you don't already have this installed, you can get it for free from this link: Acrobat Reader.