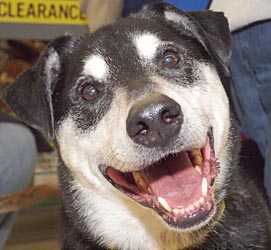 I've heard some of the whining about Act 90 and the worry about how it was going to affect shelters and rescues. Frankly, I don't see what the big deal is. I filed our application, printed off a copy of the rules and walked through our shelter with a critical eye. We made a few simple corrections, and waited excitedly to meet our inspector.
On the day she arrived, she had another inspector in tow who was in the final stages of her training. Both were courteous and pleasant, and able to answer our questions. We were found to have one small violation, which was easily corrected, and not at all a burden on the organization. We already had a vet at the facility regularly, and that has been increased a bit to keep up with the Certificates of Veterinary Inspection (CVI's), but that's certainly not a bad thing, either! We've found our adopters to be happy a CVI accompanies each adoption. It gives them peace of mind.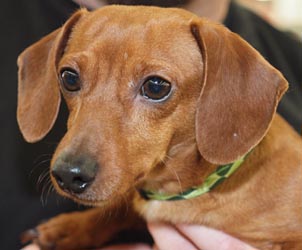 I personally think the greatest thing about this law is that it gives the consumer a way to sort the good from the bad. That's not to say that all who are not licensed are bad - but at least consumers can be pretty well-assured that if facilities ARE licensed, they're good. If there's any doubt in the consumer's mind, all he/she has to do at a licensed facility is ask to see a copy of the latest inspection report. Consumers can look that over for violations and decide for themselves. There are some facilities operating on a conditional license, meaning they're awaiting their initial inspection, or they've been inspected, but had violations that needed to be addressed. They may not be "up to par" by a consumer's standpoint, so it's important to know whether the facility has had its final clearance or is still in the process of compliance.
As always, it behooves the consumer to be educated and know what questions to ask. Sure, there will be small legitimate shelters, rescues and good breeders who don't require licensing because they don't handle enough animals in a year. There is a great article on the No Wisconsin Puppymills site, Twelve Points to Identifying a Quality Breeder, that outlines what to look for in a quality breeder. Many of those points also apply to a quality shelter or rescue. While you're on that website, take a look around at some of the photos and stories - you will see why it's SO important not to support the puppymill industry!
Thank goodness for Act 90!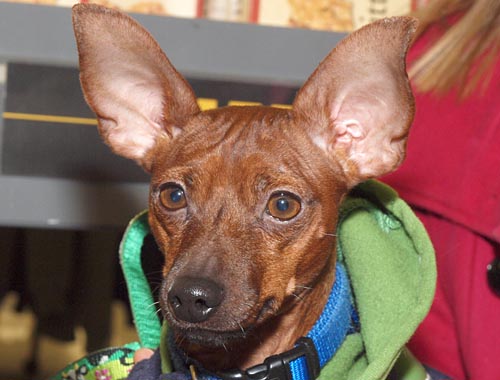 This miniature Minature Pinscher, checking out prospective adopters at a January 2012 adoption event, was surrendered by a "breeder" to a reputable rescue. If asked, he would probably also say, "Thank goodness for Act 90!" (By the way, that is not a typo -- this little guy was billed as a Mini MinPin!)
---
Editor's Note: a graphic example of the need for regulation to apply both to rescues/ shelters and to dogs being brought in from out of state can be found in the 17 January arrest of two women in Fayette Co., Tennessee. During a routine traffic stop, officers discovered 140 dogs and one cat, in terrible condition, crammed in carriers and make-shift cages stacked inside a filthy U-Haul truck, or riding in the minivan being towed by the truck. The driver was the founder of the California rescue Hearts For Hounds. Under investigation in California, the rescuers packed up their animals, intending to relocate to a larger facility in Virginia. For more details, please click on the links below: