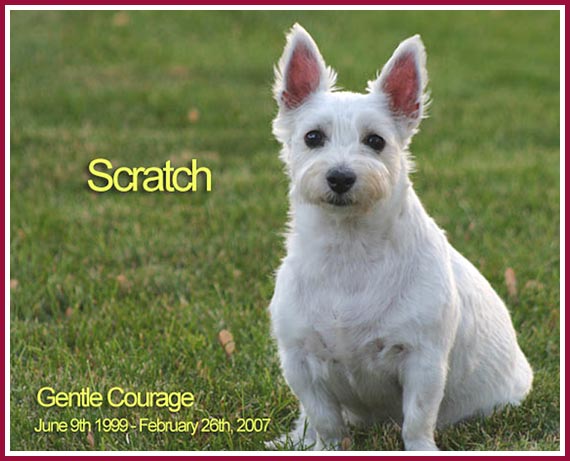 Article and photos by Rich G.
Dear Wisconsin Puppy Mill Project: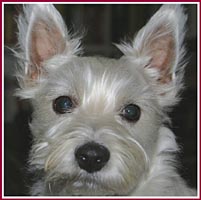 After over an hour of seizures, our tiny sick dog "Scratch" finally stopped twitching on the emergency vet's table, February 26, 2007. During her short life, I hope I was able to ease the torment caused by the puppy mill that bred her.
Seven years ago I was looking for a puppy to be a companion for my 8 year old Westie, Ophelia. Three advertisements for pure-bred puppies from Pretty Penny Kennels, Gerald Schulz's farm, drew me and my friends there. We did not know anything about puppy mills at the time.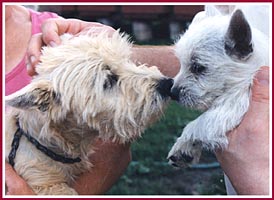 Gerald Schulz's farm was appalling. At first it seemed like an ordinary farm, but as we walked back behind the house we saw rows of cages where the puppies were kept. The cages had wire floors with pans underneath. They had overflowing, filthy dry food in a bowl, and stank of feces. So many breeds seemed crammed into the small cages, all of them desperately pushing to get on top of the heap of pups. Scratch always had a strange approach to her food bowl, but had a taste for poop.
One cage stood empty. He told us that a litter of Pugs had been burned alive the night before because the heating pad started on fire. They need the heating pads at night, especially in the winter, he explained. Scratch was terrified of smoke her whole life.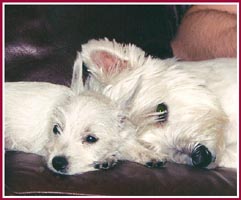 I had to rescue one of his Westies. I chose the runt as I was afraid of what he might do to her, and because she certainly could not fend for herself. That is where we got Scratch: Gerald Schulz's puppy mill. We thought we could at least save one from suffering the same fate.
We asked to see Scratch's mother. Back down to the barn, adult dogs were kept in corrals, like pigs, but again they were in metal cages. We were shown one adult Westie whose fur was orange from the rust of her cage. She looked exhausted and uninterested in anyone or anything. This was Scratch's mother.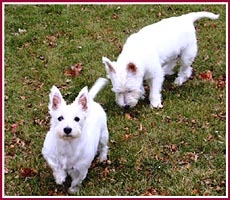 Scratch was shaking in fear until we brought her home and showed her the freedom of the yard and house. She was timid but fearlessly explored at the same time. Our vet was honest enough to warn us that because of the puppy mill breeding she may develop problems and be a very expensive dog. She was small, even for a Westie, with crooked little feet.
The first sign of trouble was the tremors of White Shakers Disease. Imagine your dog shivering in fear, and then double that. There was no reason for her to be afraid. Scratch was treated for a year with steroids and Valium. The tremors seemed to go away.
Then about a year later Scratch began to have seizures. Usually she would have two or three seizures over 6 to 24 hours. This cluster would cycle every 45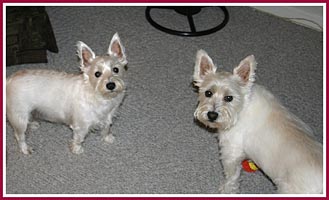 days or so. It was treated with Phenobarbital and Valium for three years, but she would still have the seizures every 40-60 days. The vet said it was the best we could hope for. She had no interest in toys or playing for the last year of her life because of the meds to control the seizures. I tell you this not for pity, but in case someone else has a dog suffering the same fate. If you do, know what you are in for, and if you can trace it back to Gerald Schulz - all the better.
Monday morning, February 26th, 2007, after 4 years of seizures, our Scratch had a series of seizures that would not stop. After 5 seizures, I realized that she would not stop on her own. I rushed to the emergency vet, and she continued seizing. The vet was able to slow the seizure but it was obvious that brain damage had occurred. Her lips and eyes still twitched. I had to let her go. We had 7 great years together. I hope we did right by her.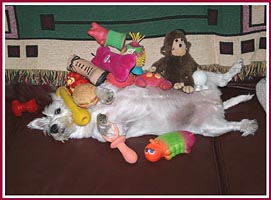 On my way home from the ER, I prayed that in some way, some day, Gerald Schulz would pay for what he is doing to these animals. I saw a dog on a Westie Rescue site from northern Wisconsin that was rescued from a puppy mill. This puppy was also diagnosed with White Shakers Disease at 9 months old. I believe Gerald Schulz is breeding this into the Westies. His practices are not only immediately cruel to the dogs that are at his mill, but they result in a lifetime of misery for the dogs and the owners that love them. Dogs rescued from his puppy mill often have parasites and neurological problems from the time they are born.
Every night the temperature reaches freezing, I think of a pile of puppies freezing in the cages at Gerald Schulz's farm and pray that his practices are stopped.
If you see the name G. Schulz on any advertisement for a dog, please don't go there to even look. I did and felt I had to rescue one of his dogs. This is the way he stays in business. If you do go there please don't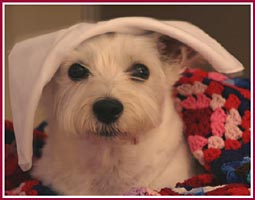 purchase a dog from him. Do a Google internet search on his name "Schulz" and you will find many people that know what this immoral man is doing to live off the backs of defenseless animals like our Scratch.
I ask everyone Please to support the work of the Wisconsin Puppy Mill Project so one day we can end the torment of defenseless animals.
Signed,
Proud owners of a courageous little dog.
---