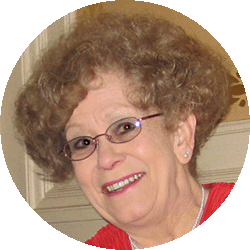 We are deeply saddened to announce that Joyce Kitsemble, a longtime supporter of efforts to stop puppy mills in Wisconsin, passed away in Madison Tuesday afternoon. Just before Governor Doyle signed AB-250 into law, Joyce experienced distress and was helped out of the room. She was taken by ambulance to a hospital in Madison. There was nothing they could do for her.
Joyce and Ed have been tireless supporters of the Wisconsin Puppy Mill Project for over ten years. They have been true and faithful friends to our mission. In the last two years, they had gathered over 5,000 signatures for our petition drive.
Joyce was one of the most avid puppy mill fighters we have ever known. She provided a loving home to many mill dogs through the years. Although she did not use a computer, Joyce used the power of her pen. Whenever a call went out to write our legislators, Joyce wrote. One of the most touching puppy mill dog stories in our achieves was penned by Joyce. Often, during the 10 years that she has been supporting WPMP, beautiful cards of support and encouragement arrived in our mailbox from this kind and dedicated woman.
Being able to come to Madison from her home in Wisconsin Rapids to witness Governor Doyle's signing of AB-250 was one of Joyce's proudest moments.
Governor Doyle publically recognized Joyce's dedication by issuing the the following statement:
"We are deeply saddened by the passing of Joyce Kitsemble, a tireless supporter of the Wisconsin Puppy Mill Project.

"For over a decade, Joyce and her husband Ed worked to end puppy mills in Wisconsin and gathered over 5,000 signatures for their cause. From providing a loving home to puppy mill dogs to sending letters of support to the Puppy Mill Project and petitioning her legislators, Joyce gave her support and encouragement to this cause until her passing.

"Joyce was a caring, passionate advocate against animal cruelty and her dedication touched the lives of many people. Jessica and I offer our deepest condolences to Joyce's husband, family and friends."
Wisconsin Puppy Mill Project and Wisconsin's dogs have lost a true and dear friend. Joyce made a cruel world better. Her dream of seeing puppy mill dogs get protection under the law came to pass in her lifetime...and for that, we are eternally grateful. Godspeed, dear Joyce, there will never be another like you. We have been blessed by your kindness and you will be deeply missed.
We join Governor & Mrs. Doyle in extending our heartfelt condolences.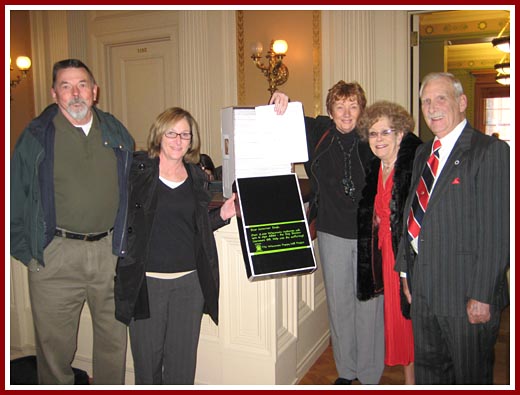 Puppy Mill Project volunteers delivering over 25,000 signatures on our petition in support of AB-250. Joyce is the lady in the red dress
---

Entire LRB 2448/2/ AB-250 (pdf)

Summary of AB-250


History of AB -250

History of SB-208

FAQ