Chica came to Clark County Humane Society from a local puppy mill, where she had lived all her life as a breeder dog. As is usual with puppy mill dogs, who don't get decent food, chew toys, or good veterinary care, Chica was hurting from severely infected gums and several rotted teeth. She seriously needed extensive dental work, but what this sweet little dog needed even more was her very own Person to love.
Dee Dee came to Clark County Humane Society looking for a Good Friend. When she met Chica, it was love at first sight for both of them.
The caring adoption professionals at Clark County Humane Society knew this was a perfect match. However, they also cautioned Dee Dee that the bill to extract Chica's rotted teeth and clean and de-scale the rest of them would be significant.
Well -- that would be a problem, but Dee Dee was undaunted. Chica needed her, and Dee Dee was determined to find a way.
Enter Joyce's Fund, established in memory of Joyce Kitsemble, a long-time supporter of efforts to help puppy mill dogs in Wisconsin. Thanks to donations in her name from compassionate people who will never meet the Good Friends they were instrumental in bringing together, Joyce's Fund was able to pay for all of Chica's dental work.
Chica is thriving under Dee Dee's care, and Dee Dee's life has been immeasurably enriched by her new best friend. She promises that, as she can, she will repay Joyce's Fund so that other little dog like hers can get the help they need!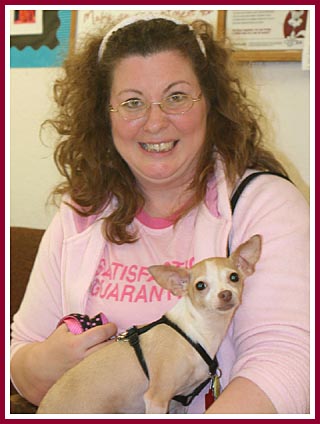 Somewhere, we are sure, Joyce Kitsemble is smiling, too!