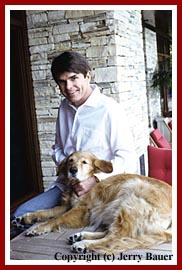 In his novel The Darkest Evening of the Year
, Dean Koontz talks about puppy mills -- thus exposing a whole different audience to "the cruelty with which breeder dogs are treated." Mr. Koontz was kind enough to put together a statement for us, incorporating some thoughts from the novel:
The Wisconsin Puppy Mill Project is engaged in an essential campaign for justice and compassion. The story of the cruelty with which breeder dogs are treated in puppy mills is one of the darkest chapters in the history of human arrogance and greed.
As anyone knows who has loved a good dog, each has its own personality, its own soul. Only the morally blind can spend time with dogs yet reject the propositions that they are intelligent and that they have complex inner lives. To force these breeder dogs to live their entire lives in cramped cages, to leave their infections untreated until they go blind or go deaf or even perish, to leave them filthy and covered with sores, to feed them poorly and to give them no moment of affection requires a heart so indifferent to suffering that it would surely be capable of treating human beings with the same cruelty.
Dogs share a bond with us that is thousands of years old and that is unique in the animal kingdom. Of all creatures of field and forest, only the dog has been known to die to protect its human companion. When archeologists excavated the volcanic ash that buried Pompeii in 79 A.D., they discovered a dog lying across a child, trying to protect it from the cataclysm. The dog's inscribed collar told how he had three times saved the life of his owner, Serverinus.
Dogs offer us a degree of loyalty and a pure love of which few human beings are capable. Dogs love us more than they love themselves; among human beings, that would be considered a sign of sainthood. They are not livestock any more than we are. To tolerate the extreme suffering and the blighted lives of breeder dogs, you have to believe that you will never be asked to account for the actions of your life.
I believe that dogs have a spiritual purpose. The opportunity to love a dog and to treat it with kindness is an opportunity for a lost and selfish human heart to be redeemed. They are powerless and innocent, and it is how we treat the humblest among us that surely determines the fate of our souls.
No society can claim to be compassionate or enlightened if it tolerates puppy mills in any form.
--Dean Koontz, 27 March 2008
Order books by Trixie and Dean Koontz (or anyone else) by clicking on the links below, and Wisconsin Puppy Mill Project gets a donation from Amazon.com!
Please Note: We invite you to download Mr. Koontz's "Printer Friendly" original statement (in pdf) to print and share. You will need Acrobat Reader, but if you don't already have it installed, you can get it for free from the link below: