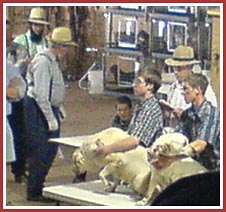 As September approaches with no announcement of a date for the fall dog auction at Horst Stables, many of you have been asking us when the next Thorp dog auction will be.
We are excited to announce that the answer to that may be -- NEVER!
For the past three months, we have been investigating a rumor that the auction may be over. Several reliable sources have told us the same thing: there will be NO MORE DOG AUCTIONS at Horst Stables!
Auction organizers have been quoted as saying that running the auction is too much of a hassle because of the protests and negative media publicity! Chuck and Cheri Wegner and all of you who wore your orange t-shirts, stood up and chanted, carried signs in the hot sun and the sub-zero temperatures -- as well as all of our Media friends who reported on the auctions, the dogs, the millers selling them, and their impact on you -- NEVER doubt that you made a difference, and we sincerely thank you all!

Standing the Line: Thorp Dog Auction, 11 Mar 09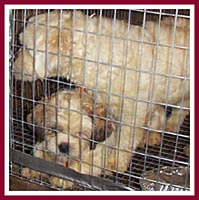 Not mentioned by auction organizers were the many repeat violations of USDA regulations, documented in inspection reports from the first dog auction on 14 October 2006 to the most recent one on 11 March 2009. We feel that the aggravation of being forced to comply with existing regulations, along with the promise of much stricter ones included in the Smith-Krietlow Commercial Dog Breeding Licensure Bill (AB-250/SB-208), were also major factors in the decision to end the selling of dogs.

USDA/AWA Inspection Reports of Horst Stables Dog Auctions


USDA/AWA Inspection Reports of Horst Stables, 06-07 (pdf)


USDA/AWA Inspection Reports of Horst Stables, 08-09 (pdf)

This information could be yet another Thorp Dog Auction LIE...but to the best of our knowledge now...IT IS OVER. To put it bluntly, "it's all about the money," and thanks to our supporters, dog auctions apparently are simply not profitable enough!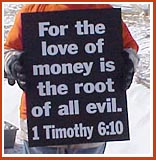 Prior to the Dog Auctions, the Horst Stable auction business mainly sold horses, cows, and farm supplies. Apparently, they have discovered that selling dogs is just not the same as selling livestock. Hopefully, the Commercial Dog Breeding Licensure Bill will help convince puppy millers that BREEDING dogs just isn't the same as breeding livestock.
Until then, millers will still be trying to make a buck off the mill dogs -- so pet owners, rescue organizations, and shelters will continue to be burdened by the dark, dirty underground network and "dumping" of these animals.
But we have taken an important first step!