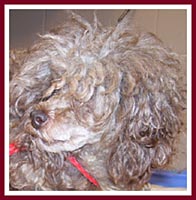 On 14 May 2010, the U.S. Department of Agriculture Office of Inspector General (OIG) released a report emphatically confirming what animal welfare advocates have been saying for years: the USDA has NOT been doing its job enforcing the minimum standards of care required for USDA- licensed commercial breeders (aka "puppy millers") and dealers!
This report may be a real eye-opener for those who think that "if a breeder is USDA, he must be OK" -- however, in reality, it graphically shows how many USDA policies and attitudes aid and abet in misery for thousands of dogs in US puppy mills.
The report is 69 pages long and difficult to summarize in a few paragraphs, but, In brief, the OIG identified the following major problems:
USDA/APHIS/Animal Care's Enforcement Process, which relies heavily on education for serious or repeat violators without an appropriate level of enforcement -- lots of carrots but very small sticks -- does not work against habitual violators of the Animal Welfare Act provisions.

The agency set small fines that did not deter violators, in some cases "fudging" guidelines to lower penalties for AWA violators, encouraging them to pay a fine rather than ask for a hearing. Many repeat violators seem to see these small fines as part of the cost of doing business rather than either punishment or deterrant.

Suffering animals who should have been confiscated immediately were instead left in horrific conditions that cost even more dogs their lives.

Many AC Inspectors did not cite violations that they should have. Obvious violations such as animals with massive tick infestations were completely overlooked as "not having an adverse affect on the dog," numbers of animals suffering from the same violation were not counted as individual violations, and repeat violations were not tallied properly. As a result, some violators who should have been re-inspected and/or fined were not.

When violations were cited, a large percentage were not documented properly (detailed descriptions, photographs, identification of specific dogs, etc). As a result, 7 of the 16 cases serious enough to go to hearing were weakened by insuffcient evidence.

Some large breeders dodged the Animal Welfare Act Standards of Care entirely by selling animals over the internet, due to a loophole in AWA.
On top of all of that, though Animal Care agrees to most of the OIG Recommendations to crack down on violations, this is the fourth audit by the OIG since 1992 to cite essentially the same findings! What guarantee is there that Animal Care will follow through with the recommendations this time when they haven't in the past?
Please read the entire report to understand the full extent and seriousness of the USDA's lack of oversight of licensed facilities. We must warn you, though, that this report contains some very graphic photos and examples of violations that may be upsetting to some readers.
Also please note that there are some very good, caring, concientious USDA Animal Care inspectors quietly doing their jobs to the best of their abilities, and they are probably just as frustrated with the situation as we are!
We'll try to have a more detailed summary of the report and recommendations online for you soon. We also hope to have some answers about what YOU can do to let the USDA know they must strictly enforce existing laws to protect animals!

Animal Care Program – Inspections of Problematic Dealers (pdf)