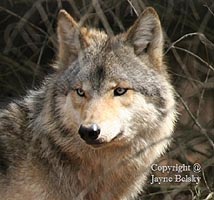 On 30 March 2016, Gov. Scott Walker signed 2015 assembly Bill 700 into law. The now- 2015 WI Act 285 states that when wolves are no longer listed as endangered: "The department shall establish a single annual open season for both hunting and trapping wolves that begins on the first Saturday in November of each year and ends on the last day of February of the following year."
One of the last acts of the Trump administration was to delist wolves in January 2021. Citing the above law, hunting groups demanded that the DNR immediately allow the hunting of WI wolves. An emergency meeting of the DNR's Natural Resources Board, a panel of seven citizens, was called for January 22. After reviewing more than 1,400 written comments and hearing from 41 people in remote testimony, the Board voted 4 - 3 NOT to hold a February hunt. (For an interesting article detailing this public hearing, please see: 'These are our brothers'.)
Our relief was short-lived, though; almost immediately a Kanasa-based group filed a lawsuit to force the hunt to go forward despite the overwhelming opposition voiced by WI citizens. A judge found in favor of the hunters, an appeal by the DNR was refused, and the hunt began on Feb. 22 and officially ended at 3 p.m. Feb 24. A total of 218 wolves were reported killed, exceeding the 119 quota by 99 wolves, or 83%.
According to the DNR February 2021 Wolf Season Report, "The application period for either a preference point or harvest license began at 12:01 a.m. Feb.16 and concluded a t 11:59 p.m. Feb. 2 0. A total of 27,151 people applied for ither a preference point or harvest license Of these applicants, a total of 18,503 applied for a harvest license, and 8,648 purchased a preference point only. Based on the state harvest quota of 119 wolves, a total of 2,380 successful applicants (12.8% of license applicants) were authorized to purchase a wolf harvest license. A total of 1,548 licenses (65% of those awarded) were sold."
Originally, the DNR sold around 1,548 licenses to kill 200 wolves "outside reservation lands" in 6 days during breeding season (lowered to 119; see paragraph below). Legal methods for killing the wolves includes trapping with foothold traps and cable restraints, hunting with the use of electronic calls, bait and with the aid of dogs to track/trail wolves."Hunters" were also authorized to use night-vision equipment, snowmobiles and other vehicles. A story in the Milwaukee Journal Sentinal states, "the DNR sold 27,151 wolf applications at $10 each. The DNR selected 2,380 hunters and trappers (20 times the quota of 119 wolves) through a drawing. As of Tuesday morning, 1,486 licenses (1,465 resident, 21 nonresident) had been sold, according to the DNR. The cost is $49 for Wisconsin residents, $251 for nonresidents." See full article here.)
Again quoting the WI DNR Wolf Hunting and Trapping web page, "The total harvest quota for the February 2021 season has been set at 200 wolves. Fifty percent of the harvest quota within the ceded territories has been reserved in response to a declaration by the Ojibwe bands. The resulting harvestable quota for state hunters and trappers is 119 wolves", broken out by Zone.
"A total of 218 wolves were harvested by state license holders. Of the 218 wolves harvested, hunting acounted for 208 wolves (95% of total take) while trapping accounted for 10 wolves (5% of total take). Of the 208 wolves taken by hunters, 188 (86%) were taken with the aid of trailing hounds (emphasis ours), 16 (7%) were taken with the aid of predator calls and 4 (2%) were taken bystand/still hunting. Of the 10 taken by trappers, 7 (3%) were taken with foothold traps and 3 (2%) were taken with cable restraints." (Note that few trappers took part, citing the poor quality of pelts at that time of year.)
These were the animals who were REPORTED by hunters. However, "the best-available science indicates that poachers and others may have killed at least100 additional wolves." (HSUS analysis of Feb. 2021 WI Wolf Hunt: A call to endwolf trophy hunting in Wisconsin(pdf)) Many of the 38 females killed may also have been pregnant.
February 2021 WI Wolf Hunt links of interest:
Feb. 2021 Wolf Season kills by zone -- 218 total:
Zone 1: Quota - 31; "harvested" - 53, CLOSED at 3 pm, Wednesday the 24th

Zone 2: Quota - 18; "harvested" - 45; CLOSED at 10:00 am, Wednesday the 24th.

Zone 3: Quota - 20; "harvested" - 43; CLOSED at 3 pm, Wednesday the 24th

Zone 4: Quota - 6; "harvested" - 7; CLOSED at 3 pm, Wednesday the 24th

Zone 5: Quota - 27; "harvested" - 31; CLOSED at 10:00 am, Wednesday the 24th.

Zone 6: Quota - 17; "harvested" - 40; CLOSED at 10:00 am, Wednesday the 24th.
For more information, including wolf hunting regulations and zones, please see: WI DNR Wolf Hunting and Trapping. You can read the regulations for hunting and trapping here.
According to an Associated Press news story: "The board estimates there will be one hunter for every 4-square miles -- versus the 10 hunters for every square-mile when compared to deer season. The reason they are allowing 20 times the permits for the wolf season is that the season is much short than other hunting seasons. They hope by allowing that number of permits they'll meet their quota. Hunting permits cost $10; resident licenses sell for $49" and non-resident licenses cost $251. (Application for wolf hunting permits opens Tuesday, season to begin Feb. 22 (MSN.com)
"Hunters have cited concerns that they may have a limited window to harvest wolves if President Joe Biden's administration restores federal protections for the animal after he issued an executive order to review decisions made by the Trump administration, including the wolf's delisting." (Wolf Hunt Will Move Forward After Panel Of Judges Dismisses DNR Appeal)