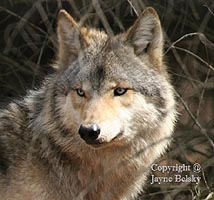 2021 Wolf Harvest Advisory Committee is holding a public hearing on the quota for the fall 2021 WI Wolf Hunt on June 22, from 9 am - 2 pm. This will be a virtual meeting, and the public can join in by Zoom or by phone.
However, there will be NO time reserved during the meeting for verbal public comments. Please, PLEASE email your written comments to: DNRWildlifeWebmail@wisconsin.gov before Friday, June 18 at noon! Put "Fall Wolf Season Comments" in the subject line, and let the Committee know that you favor a ZERO quota for the upcoming fall wolf hunt. Submitted comments will be recorded verbatim with submitter's name and provided to the committee in advance of the meeting.

2021 WI Wolf Harvest Advisory Comm. Public Hearing info

The February Wolf Hunt was a slaughter that shocked humane-minded citizens not only in WI but across the nation. We must do all we can to stop that from happening again. PLEASE take a few moments of your time to let the Committee know you consider wolf hunting completely UNACCEPTABLE, and ask for a ZERO quota for the upcoming fall hunt! In case you need them, we have put together a list of talking points (see below) to serve as a springboard to your own thoughts.
We urge you to let your voice be heard on behalf of WI wolves by submitting your written testimony! You can be sure that the wolf hunters, trappers, and hounders will!
TALKING POINTS:
The land, water, and animals of Wisconsin, including Federal forests, belong to ALL the people, not just hunters and trappers.

Wolf management programs that include hunting seem to be governed predominantly by special interests and not best available science.

The impact of the February 2021 wolf hunt has not been fully analyzed. Until the impact of the over-kill can be studied, no further hunting or trapping of wolves should be allowed.

The poorly planned and rushed February hunt caused significant collateral damage to established packs during breeding season. (See: WI Greenfire' s The February 2021 Wisconsin Wolf Hunt: A Preliminary Assessment) for more details.

The DNR has not calculated overharvest in quotas. That has led to over-kill of the wolf population, particularly in the recent February 2021 hunt.

The February 2021 wolf hunt did not honor treaty, land, and heritage rights of Native tribes.

I support a ZERO quota for the fall wolf hunt.

Wolves are not eaten by hunters, therefore the hunt is only "thrill kill" for trophies.

Livestock depredation is frequently given as the main reason wolves should be hunted -- but the percentage of livestock actually killed by wolves is relatively small.

Previous Wisconsin Department of Natural Resources Wolf Management Plans contained effective measures for "controlling nuisance wolves and reimbursing landowners for losses caused by wolves" without the use of hunting.

Hunting wolves destroys pack order and the ecosystem.

As an apex predators, the wolves help to control CWD by using weakened deer as a food source.

It's NOT a "hunter's rights" issue -- more and more ethical hunters are speaking out AGAINST trophy hunting and trapping of wolves. Please see: https://HuntersForWolves.org/, the website of Hunters For Wolves, for more details.

Wolf hunters and hunters with hounds often violate the rights of private property owners. Hunting hounds do not know property borders; the hunters do not respect them.

Traps, snares, cable ties, and packs of hunting hounds create conflicts and pose dangers to other users of public lands, to private property owners and to their pets.

Depredation payments currently in place can adequately compensate ranchers and farmers. Depredation payments should NOT be paid to hounders who purposely put their animals in harm's way.

To our shame, Wisconsin is the ONLY state in the country to allow the use of dogs to track and trail wolves, with nearly unrestrained in-the-wild training of these dogs. This is NOT the type of leadership that reflects well on our state!

Hunting wolves with hounds is just a form of "legalized dog fighting."

Hunting at night with dogs, ATVs and snowmobiles is disruptive to the environment and to people who live in rural areas.

Pursuing wolves with ATVs, snowmobiles and hounds—chasing the wolves to exhaustion—is unethical, cruel, and is not "fair chase" hunting.

I have changed the way I recreate in Wisconsin NOT because of wolves—but to avoid conflict, noise, disruption, and FEAR of hound hunters and their untethered hounds.

A minimum five mile NO HUNT buffer zone should be created around tribal lands, camping sites, hiking trails and other places used for silent sports to provide for the safety of both the tribal wolves and the general public.
---

2021 WI Wolf Harvest Advisory Comm. Public Hearing info


2021 WI Wolf Management Survey Analysis/Talking Points (pdf)


DNR Wolf Management Plan page

WI DNR Wolf Hunting & Trapping